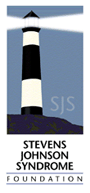 Stevens Johnson Syndrome Foundation - SJS
about
Stevens Johnson Syndrome Foundation /aka Julie Foundation for Allergic Drug Reactions is a non profit organization. Stevens Johnson Syndrome is a severe lifetheatening adverse reaction to almost any prescription and over the counter medication. The SJS Foundation was founded to be a resource to SJS victims and their families. Our mission is provide support services, and compile and distribute valuable information about SJS to the public and medical professionals regarding treatments and therapies that prove beneficial to SJS sufferers. We work to promote public awareness about the signs of SJS so that a quick diagnosis can be made and the offending drug stopped as soon as possible.
address
PO BOX 350333
Westminster, CO 80035-0333
website
update contact information
Information out of date?
Sign in to edit
supporters
23
Sign in to view
amount raised
$234.84
Sign in to view
You have the power to make a big difference for Stevens Johnson Syndrome Foundation - SJS
Sign up for Goodsearch & Goodshop and we'll donate to your cause when you search the web and shop online!
here's how you can help
Create an account

Get started by creating an account so you can start raising money for your cause for free!

Do things you already do

Use Goodsearch for everyday activities like searching the web and shopping online. Plus, when you shop at Goodshop, you save money with over 100,000 coupons and deals too!

We donate

We'll make a donation to your chosen cause when you search the web or shop online!

learn more »