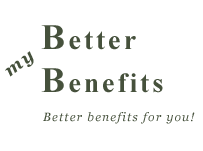 My Better Benefits
about
Regionally-based Employee Services Association services over 220 upstate NY companies and their 225,000+ employees in providing discounts and added value on local, regional, and national products and services. mBB is a tax-exempt, 501(c)3 charitable organization.
address
395 Garnsey Rd.
Pittsford, NY 14534
update contact information
Information out of date?
Sign in to edit
supporters
20,449
Sign in to view
amount raised
$1,088.24
Sign in to view
You have the power to make a big difference for My Better Benefits
Sign up for Goodsearch & Goodshop and we'll donate to your cause when you search the web and shop online!
here's how you can help
Create an account

Get started by creating an account so you can start raising money for your cause for free!

Do things you already do

Use Goodsearch for everyday activities like searching the web and shopping online. Plus, when you shop at Goodshop, you save money with over 100,000 coupons and deals too!

We donate

We'll make a donation to your chosen cause when you search the web or shop online!

learn more »