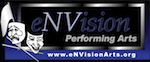 eNVision Performing Arts
about
eNVision Performing Arts was founded in 2007 and is a 501(c)(3) private non-profit youth organization that promotes the Arts throughout Nevada. We strive to bring the community the cutting edge of this activity through performance, while utilizing all sorts of Music and Dance in many different genres. Mission Statement: eNVision is dedicated to the pursuit of excellence. Excellence: Going above and beyond the standard; surpassing greatness. Its members, over the years, will strive for perfection and establish an outstanding reputation. They will maintain high standards of performance, dedication, respect, pride, enthusiasm and hard work: standards that will result in the development of a very successful organization that promotes the arts throughout Nevada.
address
10580 N. McCarran Blvd. #115-122
Reno, NV 89503
website
update contact information
Information out of date?
Sign in to edit
supporters
666
Sign in to view
amount raised
$819.04
Sign in to view
You have the power to make a big difference for eNVision Performing Arts
Sign up for Goodsearch & Goodshop and we'll donate to your cause when you search the web and shop online!
here's how you can help
Create an account

Get started by creating an account so you can start raising money for your cause for free!

Do things you already do

Use Goodsearch for everyday activities like searching the web and shopping online. Plus, when you shop at Goodshop, you save money with over 100,000 coupons and deals too!

We donate

We'll make a donation to your chosen cause when you search the web or shop online!

learn more »