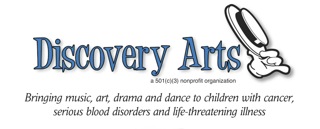 Discovery Arts
about
Discovery Arts brings music, art, dance and drama to children with cancer, serious blood disorders and life threatening illness while they are in the hospital receiving treatment.
address
1938 N. Batavia Suite B
Orange, CA 92865
website
update contact information
Information out of date?
Sign in to edit
supporters
145
Sign in to view
amount raised
$83.39
Sign in to view
You have the power to make a big difference for Discovery Arts
Sign up for Goodsearch & Goodshop and we'll donate to your cause when you search the web and shop online!
here's how you can help
Create an account

Get started by creating an account so you can start raising money for your cause for free!

Do things you already do

Use Goodsearch for everyday activities like searching the web and shopping online. Plus, when you shop at Goodshop, you save money with over 100,000 coupons and deals too!

We donate

We'll make a donation to your chosen cause when you search the web or shop online!

learn more »