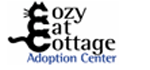 Cozy Cat Cottage - CCC
about
Cozy Cat Cottage Adoption Center is a non-profit organization that provides refuge; aid and care for abandoned, injured, abused or lost animals, free from the treatment of unwanted euthanasia. We are committed to the keep and care for these unwanted animals of all ages while attempting to find permanent, responsible, loving homes for each and every one of them. We are dedicated to promoting respect and compassion for all animals through humane education and to vigorously promote spay and neuter to reduce, and eventually to eliminate feline over population.
address
62 Village Pointe Drive P.O. Box 283
Powell, OH 43065
website
update contact information
Information out of date?
Sign in to edit
supporters
812
Sign in to view
amount raised
$3,928.73
Sign in to view
You have the power to make a big difference for Cozy Cat Cottage - CCC
Sign up for Goodsearch & Goodshop and we'll donate to your cause when you search the web and shop online!
here's how you can help
Create an account

Get started by creating an account so you can start raising money for your cause for free!

Do things you already do

Use Goodsearch for everyday activities like searching the web and shopping online. Plus, when you shop at Goodshop, you save money with over 100,000 coupons and deals too!

We donate

We'll make a donation to your chosen cause when you search the web or shop online!

learn more »